Residential Amplifiers
Antronix offers the most complete and versatile line of residential amplifiers in the market today, from our legacy line of multimedia 1-,2-,4-, and 8-port amplifiers, to VoIP and MoCA optimized designs with specialized gain and noise characteristics for the most demanding transmission environments.
All Antronix residential amplifiers are equipped with state-of-the-art, innovative features and have been widely proven in the field by all the major cable operators. Our amplifiers are designed for reliable subscriber-premise amplification. By using Gallium Arsenide technology, the Antronix residential amplifier provides improved distortion levels and noise performance required for today's digital applications. Ours is the first residential amplifier to use the patented CamPort® to provide an auto-seizing F-port for maximum contact area and reliability for multimedia applications. Available in several housing materials for a wide range of corrosion protection for even the harshest installation environments. Compact and cost efficient designs allow for easy installation in NID boxes and most versions allow for either an all ports down or an all ports out installation configuration for on site adaptability, reduced SKUs, increased inventory management efficiencies and operational savings.
Our MVRAM502B/ACP-EZ and MVRAM902B/ACP-EZ are midsplit amplifiers, and our Midsplit MicroAmps's small size and all-ports-down configuration facilitates ease of installation and its hardiness allows for indoor and outdoor installation.
Features
Patented auto-seizing CamPort® for reliable drop connection
High port-to-port isolation
Full spectrum 5-1002 MHz performance
Optimized performance in the MoCA band in "MM", "MF", and "MV" models
15 psi sealed SCTE-compliant brass CamPort®
Self-resetting short circuit protected power adaptor local or remote powering
Exceeds all SCTE standards
Benefits
Environmentally robust with the highest level of surge protection
Error-free installation with CamPort®
Clean amplification overcomes the poor noise figure present in TV tuners and converters
Optional equalization available in specified models
---
Multimedia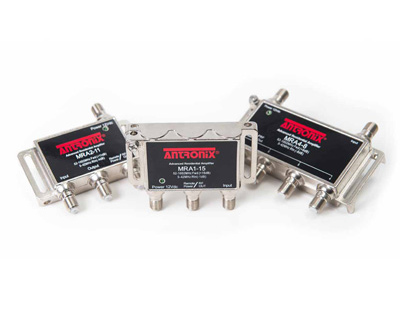 Antronix MRA, ARA and FRA series multimedia residential amplifiers provide several gain and housing configurations.
VoIP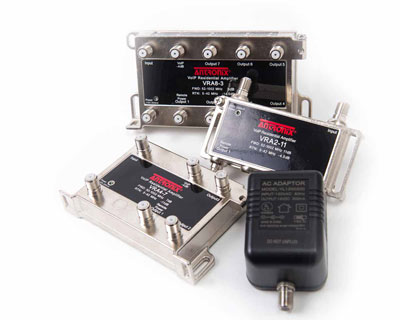 Antronix VRA series VoIP-optimized drop amplifiers provide one solution for multi-service drop installations.
MoCA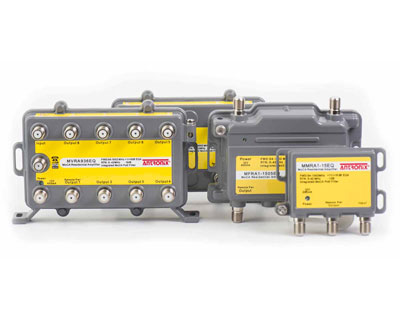 Antronix MoCA-optimized amplifiers give superior performance in the MoCA band.