Resources
See below for "how-to" videos, installation guidelines, and specifications. Contact us for additional technical support or to arrange training workshops/webinars.
---
Residential Amplifiers
Antronix's wide range of residential amplifiers are designed and manufactured to meet the most demanding network needs. Amplifiers come in various configurations, including 1-, 2-, 4-, and 8-ports; and with VoIP and MoCA optimization. Our unique CamPort® auto-seizing F-port and Gallium Arsenide technology are part of all our residential amplifier features.
Data Sheets
Installation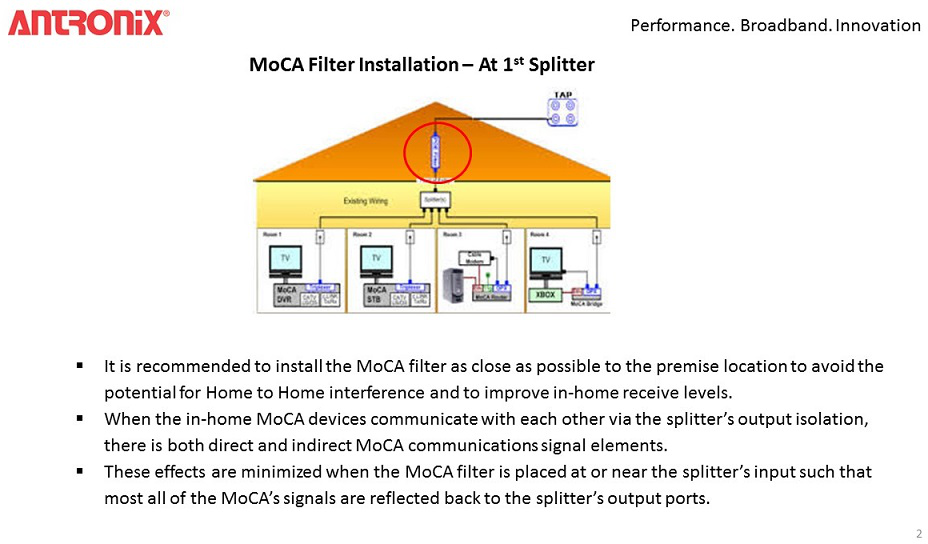 View Larger Image
---
Multi-taps
Our Milenium taps and retrofit taps provide several options to address network challenges and optimize systems. Additionally, our E-Option plug-ins extend those options exponentially.
Data Sheets
Installation
Technical Bulletins
---
Drop Passives
---
Optical Nodes
Our Fiber Node is available with constant RF output over the entire optical input window in the H-Series, while our L-Series' RF output varies with optical input.
Data Sheets
---
Product Change Notices
April 13, 2018 - We have changed the insertion loss information on our line passive labels. More information.
April 10, 2015 - We have changed the date code labeling on some of our GLFs. More information.
April 9, 2015 - We have changed the polishing process of our hex port plugs. More information.