Milenium Multi-Taps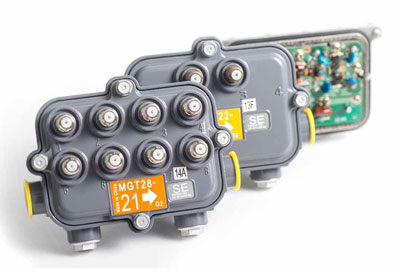 The Antronix Milenium MGT2000-SE Series 1.2GHz multi-tap lead the CATV industry in performance and reliability. Milenium series multi-taps provide low insertion loss and feature Antronix patented CamPort® and E-Option signal conditioning plug-in. All Milenium multi-taps mate to the Antronix USP baseplate for continuous video, data, telephone and power during faceplate changes.
The unmatched flexibility of the Milenium series multi-taps allows system engineers to adapt existing designs to new requirements expediently and without a complete system redesign. The MGT2000-SE can quickly and easily be upgraded for Wi-Fi powering or subscriber NIU powering with a simple faceplate exchange.
The innovative E-Option signal conditioning multi-tap solves many network problems through a creative and highly cost effective plug-in. A single plug-in can help increase signal to noise while suppressing ingress.
Never before has adapting a system to meet the demands of VOD, VoIP, digital and data been so simple. A variety of E-Option signal conditioning plug-ins are available to condition either or both the return path and the forward path.