September 27th, 2016 by admin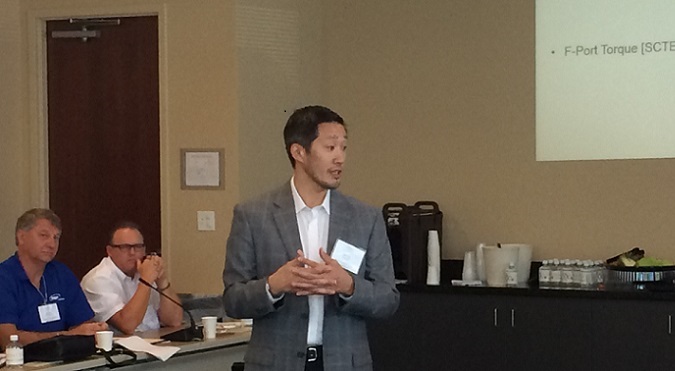 Antronix president Neil Tang discussing F-port seizing force standards at the September 16 Piedmont Chapter SCTE technical session in Durham, North Carolina.
?Antronix president Neil Tang was part of a six-member panel addressing cable telecommunications professionals in Durham, North Carolina on Wednesday, September 16. The technical session, hosted by the Piedmont Chapter of the Society of Cable Telecommunications Engineers (SCTE) and lead by the elite panel of broadband executives, discussed how vendors can meet stringent industry product specifications.
Tang, who heads the leading manufacturer of broadband products in North America, is well qualified to guide engineers, technicians and installers through the process of getting products qualified for market. He directs the Antronix research and development unit and has lead the team through the creation, testing, approval and marketing processes of many innovative products used by the major American cable operators.
"Antronix innovation and our "customer first" philosophy have helped us establish effective product approval processes," said Tang, a member of SCTE's Standards Committee. "It is very important that broadband professionals have opportunities to share that kind of expertise so that we can maintain and enhance standards for our industry."
Other panelists at the packed technical session were John Zepnick, principal engineer at Time Warner Cable Network Engineering; David Wiehagen, vice president and chief procurement officer at Time Warner Cable; Dan Cooper, vice president of Critical Infrastructure at Time Warner Cable; Tim Cooke, director of Global Engineering at Times Fiber Communications; and David Ball, telecom project manager at Element Materials Technology. Piedmont SCTE director and telecommunications consultant Jim Kersnowski chaired the session.
Antronix is the leading U.S. market designer and manufacturer of broadband products for the drop installation network, as well as mainline taps and passives. The company's multi-taps, optical nodes, amplifiers, passives, and grounding hardware have set industry benchmarks for innovation and performance. Advanced solutions and enhancements such as the Antronix E-Option signal conditioning plug-ins provide cost-effective solutions for bringing legacy systems into DOCSIS 3.1 compliance.
The SCTE provides technical and applied science standards, resources, programs, and other support to the United States cable telecommunications industry.
Posted in: News